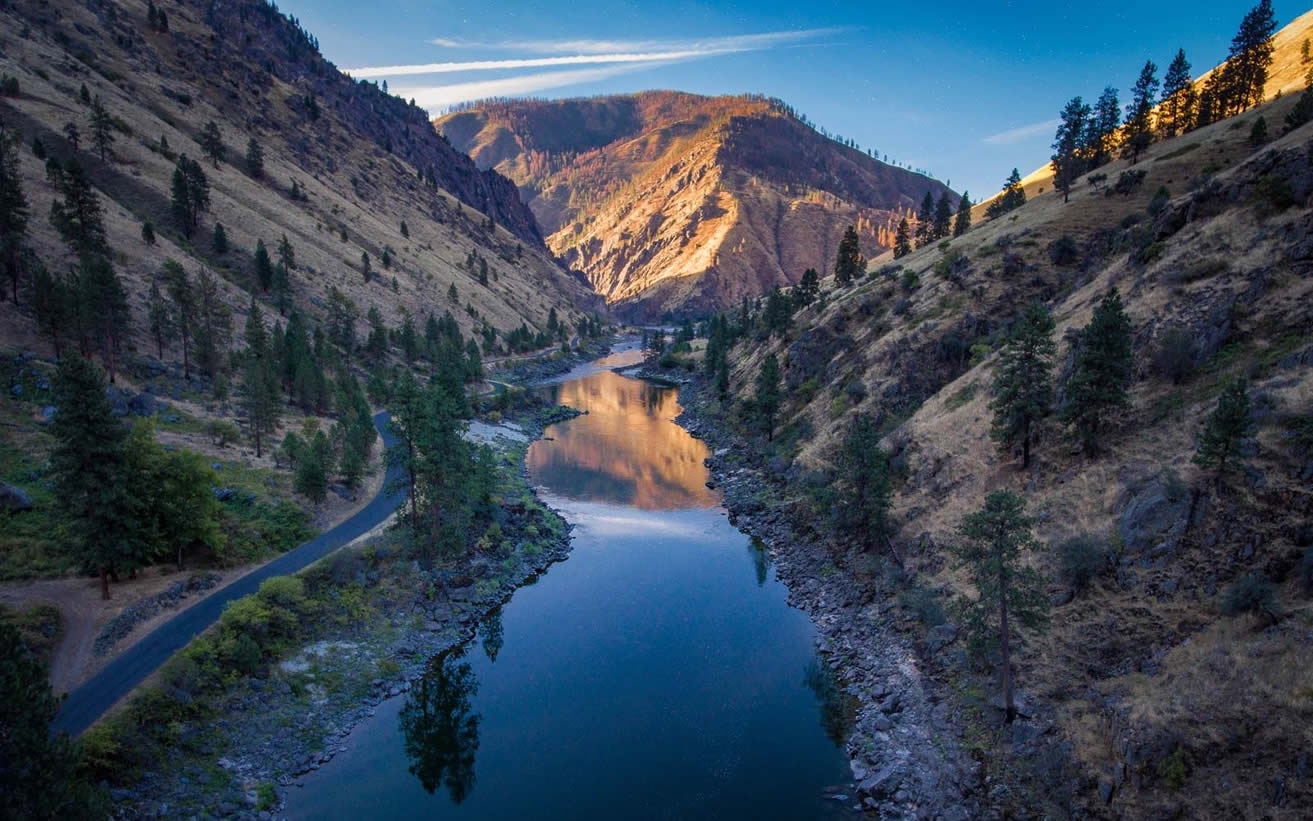 Searching for Austin on the Salmon River
Three years ago, I had the honor that most people would never want to have. On a hot sunny day, along the shore of the Salmon River in Idaho, I helped carry my dear friends' son from the bank of the powerful waters that consumed him, to the shade of a nearby tree – to await the coroner. It was surreal, peaceful, and heartbreaking all at the same time. The entire experience deeply altered my thoughts on death, family, and loving friendships.
When I got the call from our friend, my throat tightened and tears streamed uncontrollably. This is not the kind of thing that happens to you, or anyone close to you. At least it hadn't until now. They needed a drone pilot (and I am) to help search for their son who had just gone missing – swept down river while trying to cross. Austin was 26, with a beautiful loving wife, and new baby girl. His mom, my friend, was absolutely sure he was huddled under a tree down river somewhere, cold and waiting to be found.
I immediately packed my gear and prepared to drive to Idaho from Oregon. I needed a second person – a driver to pilot my truck up and down the river bank while I flew the drone sitting in back. I put the word out to a couple of friends and two immediately replied, "I can help." No questions asked.
I did not know when we would return, and we needed to leave within hours. One friend would drive with me from Bend, and my heart glowed with the beauty of this powerful gesture of friendship and kindness: he did not even know the family we were helping. He only knew that I, and they, needed help. My buddy, Levi, threw his quickly packed gear in the back of my truck and we put rubber on the road for the 7-hour drive to Riggins, Idaho. My other friend, Tawnya, drove from Boise to meet us there when we arrived, ready to help.
My first handshake in Riggins was given to a special man named Jerod. He was Austin's father-in-law. Jerod is an FBI agent in real life, but he was not here on assignment. He had professional poise, but was obviously fatigued and heavy hearted. This was Wednesday and he had been there searching non-stop since Austin went missing on Sunday. He welcomed us with sincere gratitude and we composed a search plan for the following day. It was late and we were exhausted, but sleep did not come easily for any of us.
The sunrise brought us hope. "Today we will find you." I assured him in my mind. "Austin, you are tired and hungry, but alive and well, just waiting for us to find you." I even said my affirmation out loud to Levi and Tawnya to strengthen its reach.
Jerod led us to the spot where Austin was last seen, 20 miles up river. The incredible beauty, majesty, and immense power of this water, set deep within a canyon with steep cliffs on either side, would have given a breathtaking pause to any first-time visitor. Our eyes, however, were preoccupied with scanning the water's edge, and looking between every rock and beach landing, for signs of a person in need. The river would eventually impress upon us its omnipotence and raw, unforgiving beauty. It would not let us leave unaffected.
We circled for a briefing, and Jerod gave us what information he had. He had talked with Austin's friends who were there with him when the accident happened. They were all there for a bachelor party weekend. They were trying to cross the river to explore a hot spring on the other bank. The deceptively swift and powerful currents pulled Austin under before he could make it. One friend swam out to try to save him, grabbed his hand, but simply could not best the relentless pull of the waters, and lost him. The friend made it out safely.
Jerod pointed to the spot in the river where he was last seen going under, just past a submerged white Chevy truck that had mysteriously appeared one day last month, plunged head first in to the river bed. It sat as an eerie, underwater monument –motionless despite the deceptive rage of water around it. Rescue divers had not been able to look in the truck to see if anyone was trapped because the currents were too strong for them to reach it. Jerod said, "The friend who tried to save him remembers kicking the truck as they were pulled past it, then he lost him."
Jerod gave us all one distinct instruction, "If anyone spots the body, please let me be the one to bring him to shore".
We all sat there, at this spot where we could so vividly imagine the struggle, and the monstrous beast they were fighting. I touched the wet sand at the edge, where the rippling water seemed so gentle and tempting, "Where are you, Austin?" I asked.
I did not hear the response I wanted, so I took a minute alone there to pray.
When I rejoined the group, I looked at Jerod a bit differently. I now knew what he knew. This was not going to be a rescue mission. It was a recovery mission. How on earth do you tell this to family and friends who aren't there, hanging on every message and phone call for some tidbit of good news? They absolutely needed to hold on to their faith, their belief that he would be found alive. What loved one would not do the same?
But here, before us, was the cold, wet, painful reality. The soaring cliffs, the depth of the water, the proximity of the road, the history. Damn it, the statistics. So many people have died here – they simply do not survive under these conditions. Now I understood that Jerod's heavy heart came from the dichotomy of holding hope for the family, while simultaneously holding the inevitability of what we would eventually find.
For several days we flew the drone, searching many miles of river. We focused on the steep hidden banks and areas where the land-based searchers could not easily see or access. We spent hours staring at this river's flow, witnessing time moving forward, unhindered and un-affected by the tiny human events that dotted it. We started to hate this river, but that was soon overcome by deep respect and appreciation for the life it can so easily give, and quickly take.
"The river doesn't care, it doesn't judge, it just IS."
Along the river, there is no cell service. It enabled us to be completely focused, undistracted, and present. I had a poignant conversation with Levi one day, somewhere along this river as we searched.
I asked the question that I think we all held in our minds, but did not expect answered, "I wonder if it is painful to drown. I hope Austin went peacefully".
"I had a near-death experience once." He surprised me. "I was in a water-craft accident and knocked unconscious under water."
"What?!" I exclaimed, "I didn't know this!" He continued, "All I can remember is that I had the incredible, beautiful feeling of tiny water bubbles slowly filling my lungs and exhaling forever, painlessly. It was blissful and I didn't want it to end. I felt I could breathe out forever. I was awakened by the shock of my buddy, pounding on my chest to give me CPR, and feeling the very real pain of my broken ribs and bruised face." Levi paused for a moment, then added, "A buddy of mine also had a near-drowning experience and told me that he had a similar, transcendental sensation. I don't think Austin suffered."
We sat quietly for a moment. His story gave me shivers. Then all of a sudden a tranquil calm fell over me. I was not worried about Austin any more. I knew he was Home, safe.
After several days of searching unsuccessfully, we needed to return to Bend. It was so hard for us to leave. Jerod was full of gratitude and thanks, but in a way we felt like we were abandoning them. It was a painfully difficult decision.
New volunteers had arrived to help continue the search on land, and as we were leaving the group that night, it really struck me: Austin had an incredible effect on people. He was so loved that all these people came from around the country to help look for him. They were all amazing people – a real testament to the friendship Austin blessed them with. He brought us all together, one way or another, touching each and every one with his absence.
Seven hours later, Levi and I were back in Bend. It was the middle of the night and I stumbled in to bed, trying hard not to wake my sleeping wife. I cried as quietly as I could, then fell in to a deep sleep, exhausted.
Two days later, I called Jerod back in Riggins. They were still pacing the river, looking for a sign. I simply could not shake the persistent, powerful feeling that I should still be there. I daydreamed about the rocks deep under the green moving water and wondered if I had missed something. I played back footage in my head and recalled uncharacteristic shapes on the shore –was that him? Did we pass over it too quickly? I asked Jerod, "Would the drone still be useful in continuing the search?" He didn't hesitate, "Yah, it would. We really need to keep eyes on the full river now in case he surfaces."
"I'll be there tomorrow." I said, and began to re-load my still packed bags in my truck. I drove back to Riggins and began the search again. I arrived in the morning and before I could exhaust my first drone battery, a volunteer pulled up alongside our truck, "They just found him."
"They just found him."
I immediately began to cry. Happier, and sadder, words could not have been said. I quickly drove up river to the spot where he was found, exactly where he was lost, 10 days ago. He had surfaced on his own, in his own time, as if to say, "I'm ready to go home now".
There in the middle of the vast green pool of deep water, sat Jerod – wearing his life jacket, in a one-person raft. He was motionless, eyes fixed on a gently floating object he held at a short distance on a relaxed rope. As we got closer, we saw the GoPro strapped to Austin's chest. His friends had told us he was wearing it when he went in. Jerod was going to bring him to shore, just as he had wanted.
The rocky embankment was dangerous, so it was decided that a river guide would take Austin's body down-river a bit to a beach landing where he could be removed safely. A few of us met him there, and together we carried Austin to a shady spot under a tree, to await the coroner. We all sat for a while on the beach. Some held each other and quietly shared memories. Some silently gathered beautiful river rocks to remind us of Austin. Jerod was calm. His anxiousness and fatigue now faded to a quiet resolve. He still had the difficult task of giving the final news to the family, and returning the body home. "I can take it from here." he said, and one-by-one the volunteers began to leave, to return to reality.
Reality, for me, did not return quite as I expected. The outpouring of love, from the family and friends of Austin, left me wondering if there is anything more powerful in the world than the connection between people. The generosity and selflessness of my dear friends who came to help continues to warm me every day. But, this is how it works. When I heard that my friend had lost her son, and needed help, I knew I would do anything within my power to help them. There was no question in my mind. This is just what you do when you love someone.
"There is a gentle ripple of a line that you can cross in every friendship."
There is a gentle ripple of a line that you can cross in every friendship. We toe the line all the time with casual relationships. However, when you are in true need, and call upon a friend, you step over the line. When you give selflessly to help a friend in a tough situation, you step over the line. This is when Love begins. I received a shining reminder, like a dip in an icy pool that demands your attention and precludes all distractions, that THIS is life. This is what makes life worth living.
My views and fear of death have shifted since this experience. Death is not a punishment or some kind of karmic consequence. It just happens. Sometimes it happens sooner than we expect, and to people we would least expect. It is our reminder to Love big, everyday, in every way. Without death, we would have no idea how to truly Love.
Nobody should have to carry the body of their friend's child to shore. I do not wish it upon anyone. At the same time, I would not return the experience for anything on this earth. Looking back at all the amazing events, charity, growth, and deepened connections that have manifested in the three years since, and because of, Austin's death leaves me in awe. It looks – however inconceivably, like a gift he left for the world.
A special thanks to the Kelley family for allowing me to share their story.
View a short video of the experience here:

Searching for Friends on the Salmon River from Kevin Kubota on Vimeo.